#ELTchat Nominated for an ELTons Award!!! Don't miss our Symposium today!
Did you miss us today (Wednesday)? We know some of you turned up for lunchtime chat.  Sorry we're all at IATEFL enjoying the conference and getting ready for our symposium toDAY!!!!!!.
We'd love you to join us online. We'll be holding an #eltchat from 15.50 to 18.20 GMT on the topic of social networking and continuous professional development to coincide with our symposium.   We hope you'll tweet with your ideas and opinions.
The symposium will look at everything from the history of #eltchat through to how the web have revolutionized conferencing.  There are 6 of us speaking over the course of the symposium and we hope to bring you as much as we can  via live stream and twitter. So watch the hashtag for more information and of course pass on the message.
Running Order of our talks
Marisa Constantinides  – #ELTchat – hashtagged conversations and CPD through social networking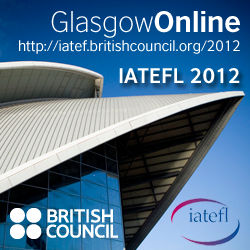 Shaun Wilden  – What has #hashtagging ever done for us?
Sharon Hartle – ELTCHAT and reflective teaching
Barbara Hoskins Sakamoto – What can you do with a PLN, anyway?
Bernadette Wall  – Creating your own interest-driven professional development path using social media
Shelly Terrell – Evolution of the conference: the internet's impact on professional development
We were very much looking forward to your contributions throughout the symposium.
Important! 
Our talks will be streated live from the conference, so stay tuned here, on Facebook and Twitter for our live channel! 
#ELTchat nominated for an ELTons Innovation Award 
Our symposium is about all those things but we can't help being excited, pleased and proud to have been shortlisted for an ELTons Innovations Award in the Resources for Teachers Category
In fact, since we heard, we can't stop smiling
See you online tomorrow. Join us to share this day and take part in #ELTchat today, and to bring a twitter-resistant friend with you 🙂
See you at IATEFL and online!!!!